Food supplement based on Berberine, ideal for those who do not want statins, those with side effects from statins, and those who despite already taking statins want to further lower their LDL.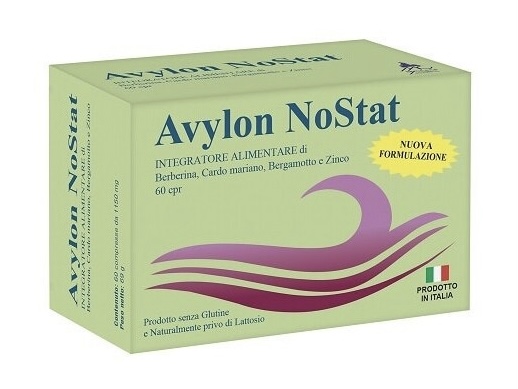 Avylon NoStat is a berberine-based supplement useful for those who cannot take statins, do not want to take statins, and for those who, despite taking them, want to further lower their LDL.
Avylon NoStat is a supplement based onititolated and standardized active ingredients useful to promote the control of lipid metabolism (Cholesterol and Triglycerides).
Package Contents
60 tablets 800 mg in blister packs
Manner of use
It is recommended to take 1 tablet daily unless otherwise advised by a physician.
Quality standards
Product included in the Register of Food Supplements of the Ministry of Health.
Storage Methods
Store in a cool, dry place avoiding exposure to direct sunlight.
The shelf life refers to the product in unopened package and properly stored.
Do not use beyond the indicated date.
Supplements should not be used as a substitute for a varied and balanced diet but should be used as part of a healthy lifestyle.
The product should be kept out of the reach of children under 3 years of age.
Do not exceed the recommended daily dose.
Seek the advice of your doctor before using this product.
Do not take this product if you are pregnant or breastfeeding, or if you are taking hypolipidemic drugs.
| | | |
| --- | --- | --- |
| CHARACTERISING COMPONENTS | AVERAGE INTAKE PER DAILY DOSE | %VNR |
| Berberine | 500 mg  | – |
| Milk Thistle | 187,5 mg | – |
| of which silimarine | 150 mg | – |
| Bergamot Phospholipid | 100 mg | – |
| Zinc | 3,5 mg | 35% |
| | | |