Food supplement based on plant extracts, useful for the regular functioning of the cardiovascular system.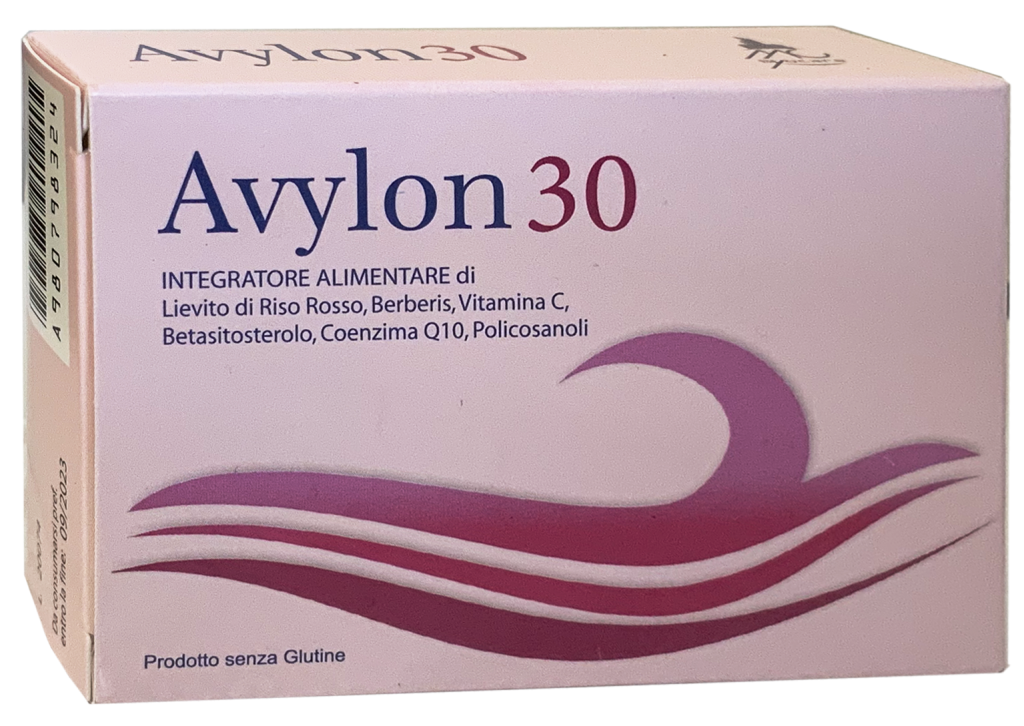 Avylon 30 is a dietary supplement containing plant extracts with Red Yeast Rice and Berberis, Vitamin C, Betasitosterol, Coenzyme Q10 and Polycosanols.
Avylon 30 is a supplement based on titrated and standardised active ingredients useful to support the control of lipid metabolism (cholesterol and triglycerides), in association with an appropriate diet and a healthy lifestyle.
Content of the package
3o tablets

How to use
We recommend taking 1 tablet a day, after the main meal, with a little water.

Quality standards
Product included in the Register of Food Supplements of the Ministry of Health (code: 104312)

Storage conditions
Store in a cool, dry place, avoiding direct sunlight.
The expiry date refers to the product in its unopened package and correctly stored.
Do not use after the indicated date.
Supplements should not be used as a substitute for a varied and balanced diet but should be used as part of a healthy lifestyle.
The product should be kept out of the reach of children under 3 years of age.
Do not exceed the recommended daily dose.
Seek the advice of your doctor before using this product.
Do not take this product if you are pregnant or breastfeeding, or if you are taking hypolipidemic drugs.
CHARACTERISING COMPONENTS
AVERAGE INTAKE PER DAILY DOSE
%VNR
Red rice yeast
(Title 3% monacolin K)
300 mg
(9 mg)
–
Berberis aristata
(Title 97% berberine)
250 mg
(242,5 mg)
–
Betasitosterol
100 mg
–
Vitamin C
100 mg
125
Coenzyme Q10
25 mg
–
Policosanol
(90% octacosanol titre)
5 mg
(4,5 mg)
–
CHARACTERISING COMPONENTS
AVERAGE INTAKE PER DAILY DOSE
Red rice yeast
(Title 3% monacolin K)
300 mg
(9 mg)
Berberis aristata
(Title 97% berberine)
250 mg
(242,5 mg)
Betasitosterol
100 mg
Vitamin C
100 mg
(VNR 125%)
Coenzyme Q10
25 mg
Policosanol
(90% octacosanol titre)
5 mg
(4,5 mg)