YOU CAN KEEP YOUR CARTILAGE HEALTHY BY TRYING
Dietary supplement useful in slowing down the process of cartilage deterioration or injury.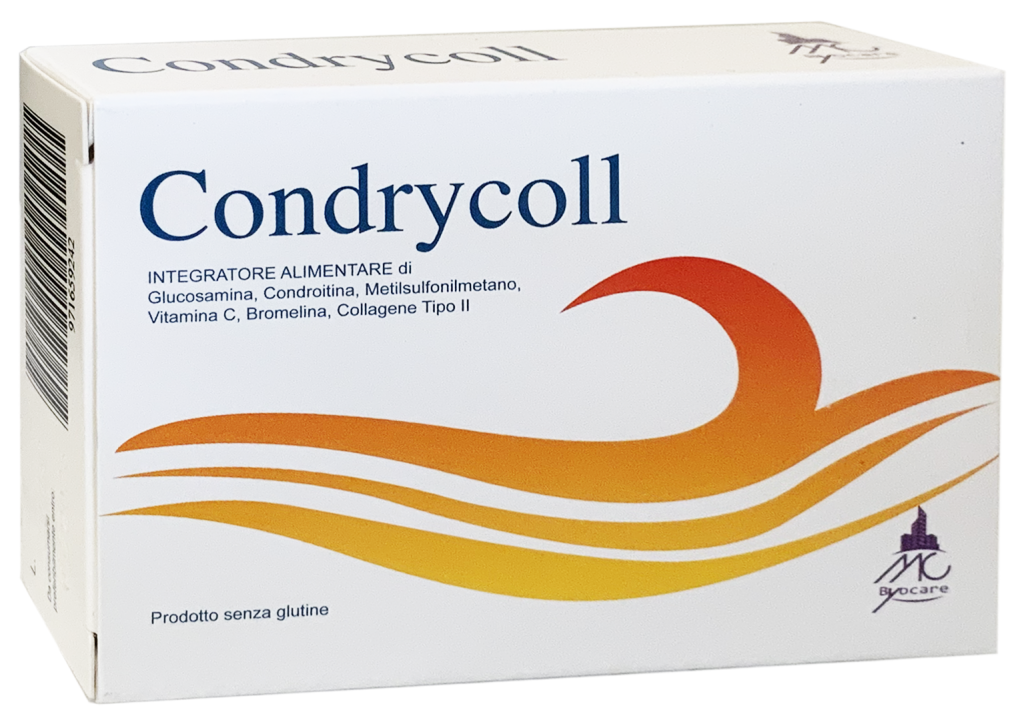 Condrycoll is a dietary supplement containing Glucosamine Sulphate, Chondroitin Sulphate, Methylsulfonylmethane, Bromelain 2400GDU, Vitamin C, Collagen Type II.
Thanks to its components, Condrycoll can be particularly useful in all cases of cartilage alteration as these principles act in a synergistic manner and have a very important trophic action at the level of the joint matrix, promoting the synthesis and reintegration of its main constituents.
Content of the package
3o 1300 mg tablets in blister

How to use
We recommend taking 1 tablet a day, preferably in the morning.

Quality standards
Product included in the Register of Food Supplements of the Ministry of Health (code: 89660)
Storage
Store in a cool, dry place, avoiding direct sunlight.
The shelf life refers to the product in its unopened package and correctly stored.
Do not use after the indicated date.
Supplements should not be used as a substitute for a varied and balanced diet but should be used as part of a healthy lifestyle.
The product should be kept out of the reach of children under 3 years of age.
Do not exceed the recommended daily dose.
Do not take this product during pregnancy or whilst breastfeeding.
Contains substances derived from crustaceans and fish.
| | | |
| --- | --- | --- |
| CHARACTERISING COMPONENTS | AVERAGE INTAKE PER DAILY DOSE | %VNR |
| Glucosamine Sulphate | 500 mg | – |
| Chondroitin Sulphate | 300 mg | – |
| Methylsulfonylmethane | 150 mg | – |
| Bromelain 2400 GDU | 100 mg | – |
| Vitamin C | 100 mg | 125 |
| Collagen Type II | 50 mg | – |
COMPONENTI CARATTERIZZANTI
APPORTO MEDIO PER DOSE GIORNALIERA
Glucosamine Sulphate
500 mg
Chondroitin Sulphate
300 mg
Methylsulfonylmethane
150 mg
Bromelain 2400 GDU
100 mg
Vitamin C
100 mg
(VNR 125%)
Collagen Type II
50 mg