NEURYSOLL MATRICE
40 tablets
Dietary supplement that works by effectively reducing neuropathic pain, on vascular inflammation and impaired microcirculation.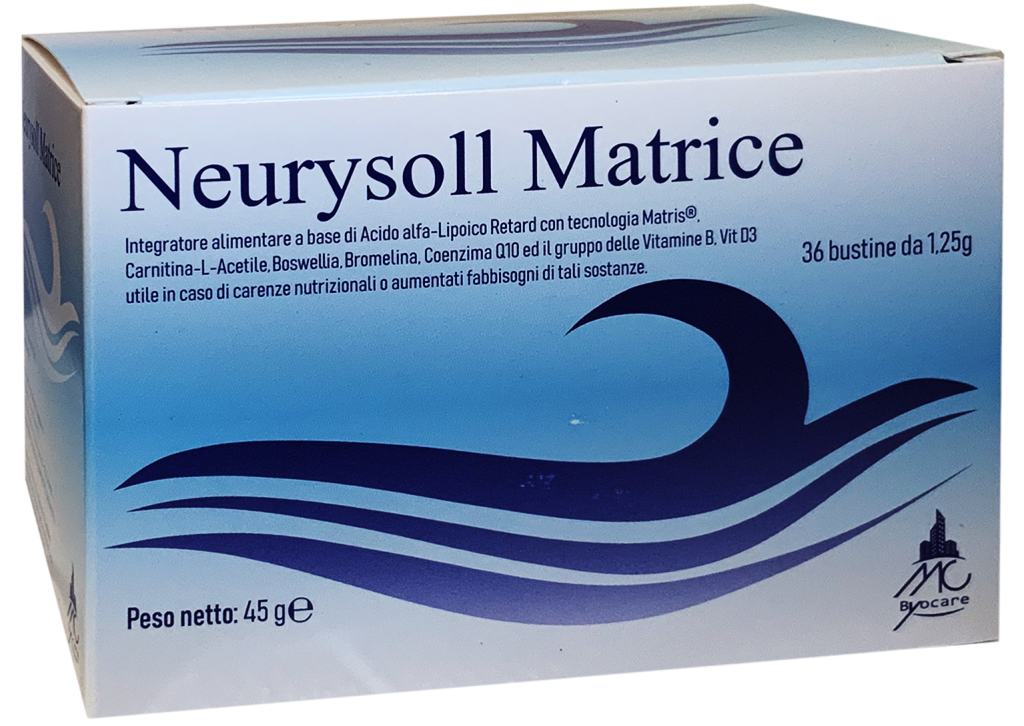 Neurysoll Matrix is a dietary supplement containing Acetyl L-Carnitine 500.00mg, Alphalipoic Acid 300.00 mg, Nicotinamide 25.00 mg, Vitamin B12 2.00mcg (200% VNR), Vitamin D3 mcg (500%VNR).
Neurysoll Matrix is a is a complex of active ingredients and vitamins that effectively help protect the nervous system, effectively reducing neuropathic pain (L. Ac. Carnitine and Ac. α- lipoic acid); boost energy (Vitamin B12 and Niacin; and improve bone and immune health).
Content of the package
40 tablets

How to use
It is recommended to take 1-2 tablets a day, between meals, diluted in a little water.

Quality standards
Product included in the Register of Food Supplements of the Ministry of Health (code: 112549)

Storage conditions
Store in a cool, dry place, avoiding direct exposure to sunlight.
The expiry date refers to the product in its unopened package and correctly stored.
Do not use after the indicated date.
Supplements should not be used as a substitute for a varied and balanced diet but should be used as part of a healthy lifestyle.
The product should be kept out of the reach of children under 3 years of age.
Do not exceed the recommended daily dose.
If you are being treated with hypoglycaemic drugs, consult your doctor before use.
In rare cases lipoic acid may cause hypoglycaemia.
| | | |
| --- | --- | --- |
| CHARACTERISING COMPONENTS | 1 TABLET | %VNR |
| Alpha Lipoic Acid | 300 mg | – |
| Carnitine L-Acetyl | 500 mg | – |
| Nicotinamide | 25,00 mg | – |
| Vitamin B12 | 2,00 mcg | 200 |
| Vitamin D3 | 25 mcg | 500 |
CHARACTERISING COMPONENTS
AVERAGE INTAKE PER DAILY DOSE
Matris Alpha Lipoic Acid
600 mg
Carnitine L-Acetyl
500 mg
Boswellia
(Title 65% boswelic acids)
200 mg
130 mg
Bromelain 2400 GDU/g
150 mg
(VNR 125%)
Coenzyme Q10
50 mg
(VNR 333,33%)
Vitamin PP
54 mg
(VNR 250%)
Vitamin B1
0,55 mg
(VNR 428,57%)
Vitamin B2
0,7 mg
(VNR 250%)
Vitamin B6
0,7 mg
(VNR 428,57%)
Vitamin B12
1,25 mg
(VNR 250%)
Folic Acid
0,1 mg
(VNR 428,57%)
Vitamin D3
2,5 mcg
(VNR 250%)