Dietary supplement for improved concentration and memory for studying.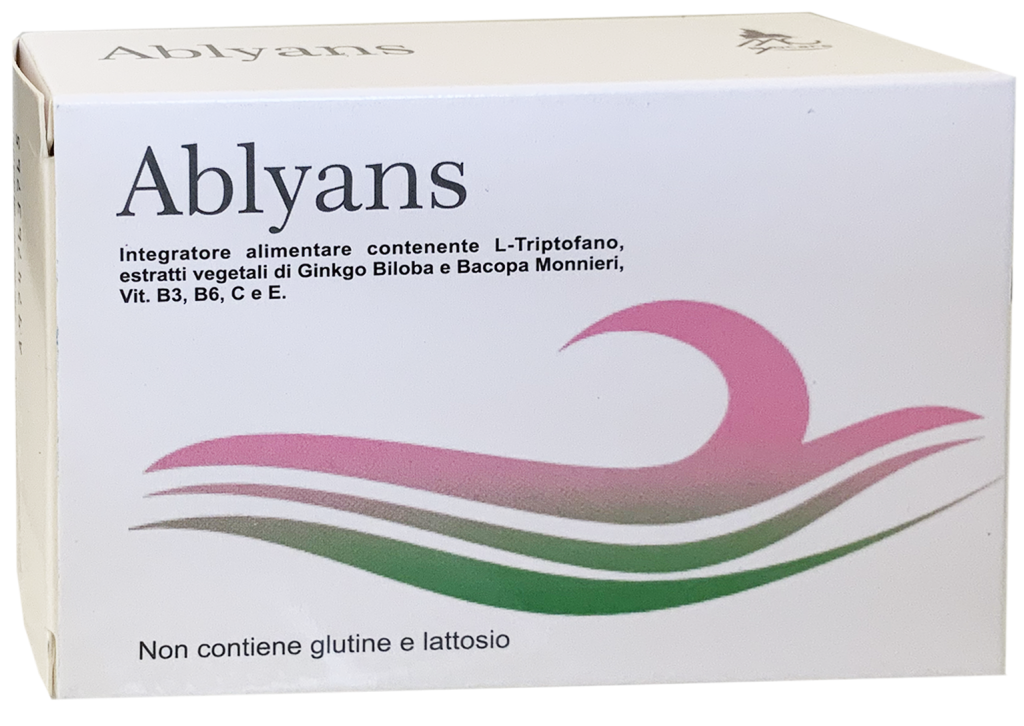 Ablyans is a dietary supplement containing Bacopa Monnieri, L-Tryptophan, Ginkgo Biloba, Niacin, Pyridoxine, Vitamin E and Vitamin C.
M.C. Byocare's innovative approach with Ablyans is to provide an integration of potent nutraceutical noòtropes with an improving effect on cognitive function, concentration and memory, which already have a large clinical case history, together with components that modulate anxiety and mild depression and thus put the patient in the best psychophysiological conditions to use the benefits of the integration therapy itself.
Ablyans therefore helps to improve concentration, retention, processing and memorisation of cognitive stimuli in both young people and adults, is beneficial to the well-being and functionality of memory and cognitive functions, and modulates anxiety and mild depression.
Content of the package
6o tablets 800 mg in blister

How to use
It is recommended to take 2 tablets a day unless otherwise advised by your doctor.

Quality standards
Product included in the Register of Food Supplements of the Ministry of Health (code: 122018)

Storage conditions
Store in a cool, dry place, avoiding direct sunlight.
The expiry date refers to the product in its unopened package and correctly stored.
Do not use after the indicated date.
Supplements should not be used as a substitute for a varied and balanced diet but should be used as part of a healthy lifestyle.
The product should be kept out of the reach of children under 3 years of age.
Do not exceed the recommended daily dose.
The product is not recommended for use during pregnancy and lactation.
If you are taking anticoagulant or antiplatelet medications, consult your doctor before taking this product.
Contains substances derived from crustaceans and fish.
CHARACTERISING COMPONENTS
AVERAGE INTAKE PER DAILY DOSE
%VNR
Bacopa Monnieri dry extract
(Title 20% bacosides)
400 mg
(80 mg)
–
Ginkgo Biloba dry extract
(Title 24% ginkgoflavonoids)
(Title 6% total terpene bricks)
120 mg
(28,8 mg)
(7,2 mg)
–
L- Tryptophan
350 mg
–
Vitamin C
100 mg
125
Vitamin E
40 mg
333,33
Niacin
40 mg
250
Vitamin B6
6 mg
428,57
CHARACTERISING COMPONENTS
AVERAGE INTAKE PER DAILY DOSE
Bacopa Monnieri dry extract
(Title 20% bacosides)
400 mg
(80 mg)
Ginkgo Biloba dry extract
(Title 24% ginkgoflavonoids)
(Title 6% total terpene bricks)
120 mg
(28,8 mg)
(7,2 mg)
L- Tryptophan
350 mg
Vitamin C
100 mg
(VNR 125%)
Vitamin E
40 mg
(VNR 333,33%)
Niacin
40 mg
(VNR 250%)
Vitamin B6
6 mg
(VNR 428,57%)