KAPYLLAR FORTE
Venotonic cream 100 ml
Venotonic cream that fights venous and lymphatic insufficiency, giving a pleasant sense of lightness to legs and ankles.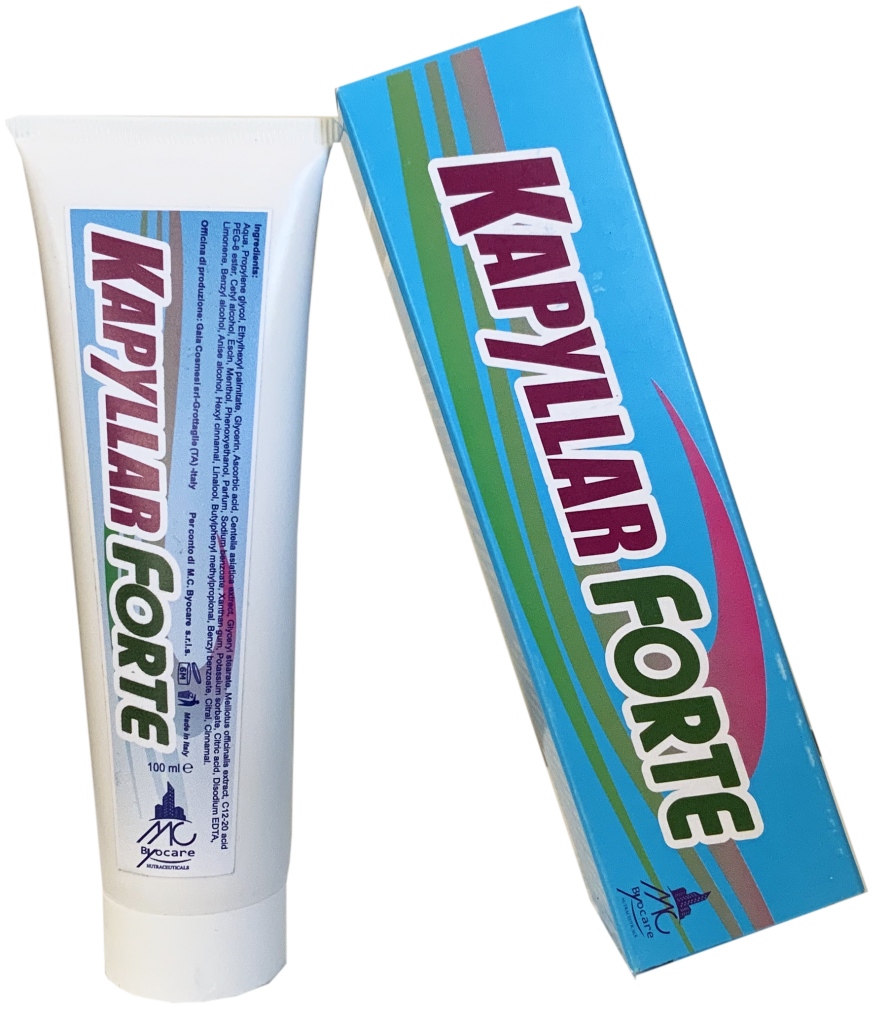 Kapyllar Forte is a specific formulation containing principles of recognised vasoprotective and draining action, effective in favouring a physiological improvement in the trophism of the microcirculation and capillary tone in cases of swelling, heaviness, nocturnal restlessness of the lower limbs, oedemas of traumatological and surgical origin and secondary to vasodilators.
The functional substances in Kapyllar Forte are: Coumarins from Sweet Clover, Escin from Horse Chestnut, triterpene substances from Centella Asiatica, Vitamin C and Menthol. Thanks to these components, the cream provides relief and wellbeing to tired, swollen and heavy legs, improving venous tone and giving a pleasant sense of lightness and freshness. It also preserves the health of the blood vessels by strengthening their walls and increasing their permeability and elasticity.
Package contents
Cream 100 ml

How to use
Apply on the skin of the legs and ankles twice a day massaging from the bottom up until completely absorbed.

Quality standards
Manufactured and registered in Italy.

Storage conditions
Store in a cool, dry place, avoiding direct sunlight.
Close the product well after use.
The expiry date refers to the product in its unopened package and correctly stored.
Do not use after the indicated date.
Avoid application in case of allergy or sensitivity to one or more components.
If irritation occurs, discontinue use immediately.
Keep out of reach of children.
Use only on intact skin.
External use.
Avoid contact with eyes.